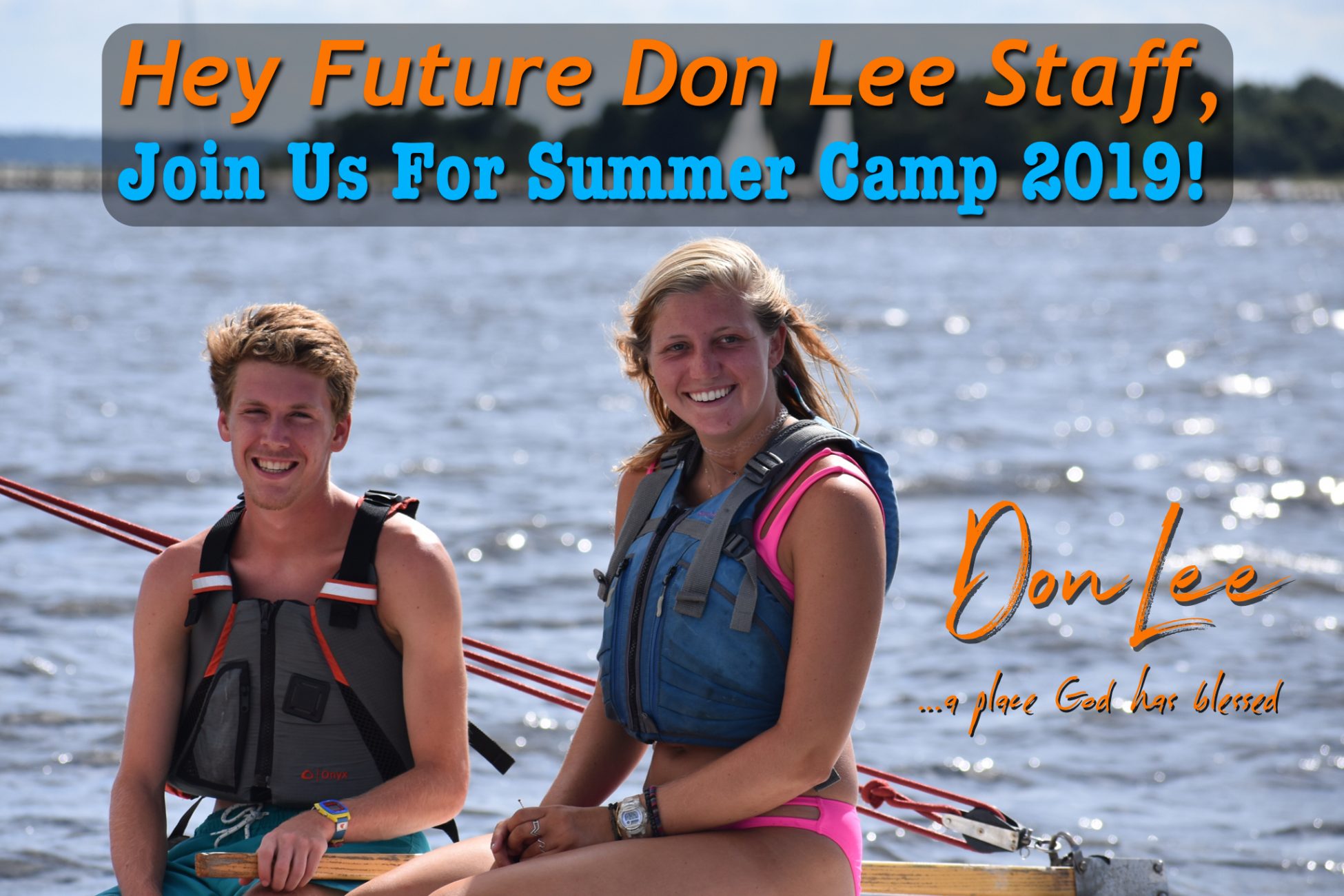 The time has come!
Please fill out your 2019 Summer Staff Application by clicking the "Staff Application '19" image below. We are very excited for Summer '19 and we want YOU to be a part of our team. If you have any questions about the 2019 application please email info@donleecenter.org
Please be sure to go to the following links below to see the qualifications and expectations of Summer Staff before applying:
Summer Staff Dates:
Summer Camp: June 9 - August 10, 2019
1st session: June 9 - July 13, 2019
2nd session: July 14 - August 10, 2019
Family Camp: August 11 - August 15, 2019
In Order to Work, You Must Complete the Following Training(s):
Staff Orientation Weekend: May 17 -19, 2019
Available for high school students only
Mandatory Staff Training: May 30 - June 7, 2019
Sailing Staff Training: May 22 - 28, 2019
All Sailing Staff are also required to attend Mandatory Staff Training in addition to Sailing Staff Training.
First Aid and CPR Requirement:
Every staff MUST be certified in (at least) Basic First-Aid and CPR for the Professional Rescuer (Adult, Child, and AED) before you arrive for Staff Training.
We are looking for highly motivated, energetic, contagiously fun, hard-working, team-focused Christian staff to work as a part of our Summer Staff Team.
We are looking for staff members who have the following characteristics:
An individual who desires to be actively involved in Christian ministry to God's people; a person who has a passion for working with children and youth in a life affirming community.
A person whose Christian faith is a guiding force in his/her everyday life and who is willing to share that faith with campers and staff; persons who can actively and effective share their faith experience and expression.
A person who has an appreciation for the beauty and complexity of God's creation; and who practices a lifestyle of care and compassion for the common good of persons and creation.
A person who can work effectively in a team situation and has basic skills which enable him/her to do this in a loving and caring way; a person who can lead and follow as a member of and exciting team of community facilitators.
A person who is emotionally and spiritually willing and able to support a camp program that is a full residential program which requires focus and attention 24 hours per day.
CLICK THE IMAGE BELOW TO ACCESS THE SUMMER CAMP STAFF 2019 APPLICATION: