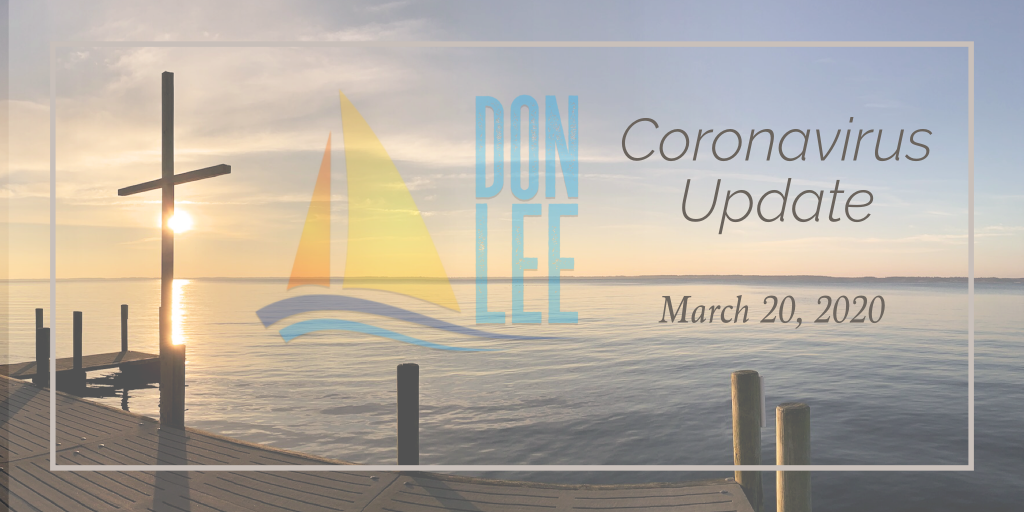 Grace and peace to each of you from Camp Don Lee. As our camp community is aware, the developing COVID-19 situation is impacting all of us and seems to change daily. We lean in to our faith that we know God is in control and loves each of us abundantly.
Our spring season has been eliminated due to the virus outbreak, meaning thousands of students and retreat guests will not come and see us in the upcoming months as planned. With regard to summer camp, we continue to be hopeful it will still take place. We are praying all these steps we are taking as a country to be responsible Christians and citizens during a pandemic will bring about the desired outcome of less disease transmission and fewer deaths. Lord in your mercy, hear our prayer.
I know many of you share our hope and pray for summer camp by the messages I've received from parents asking questions, but reminding me their children and youth are so looking forward to their time at Don Lee - "the highlight of their summer."
At this time, we do not believe we are in a position yet to make a decision regarding summer camp, but we do realize there are ample health and financial concerns regarding it I would like to address with you.
For multi-week campers, the final payment deadline, which is April 1st, will be extended to May 1st, when all camp payments are due. Please know if we need to make an adjustment to the schedule of summer camp, all monies paid will be refunded to you. In addition, we will extend the deadline to request a refund for camp through May 15th. We respectfully ask you stay the course with us as the impact of COVID-19 on Don Lee has been financially significant so far with the complete loss of spring bookings from schools and retreat groups. I would add these deadlines may change further in the weeks ahead, offering more grace to camper families as we move through this fast-changing situation.
We understand these times are challenging, but are proud of the adaptability and resilience of our ministry. We hope your family is enjoying this unexpected time together and finding the blessings in it. Each of you should have received an email from our executive director, Dail Ballard, with some additional details and information regarding the overall ministry. If you did not receive it, please make sure your UltraCamp account is current with good contact information, including email addresses and cell numbers, and follow us on Facebook and Instagram. Our website is also a good source.
In the meantime, expect to hear from your Don Lee team at least weekly with updates and resources for your family from our educators and staff via email and our social media channels. Let us pray together for this ministry - A Place God Has Blessed - and our wonderful full time staff, seasonal staff, camper families and camp alumni - our camp community - as we move through this time of great challenge and uncertainty. We hold all of you close in our hearts and pray for health and safety of all, and wishing for the days of summer camp when we can all be together in Christian community and the renewal that experience brings to each of us.
Kate Cooper Metts, Director
Don Lee Camp & Retreat Center
He will never leave you or forsake you. Do not be afraid and do not be discouraged.
-Deuteronomy 31:8