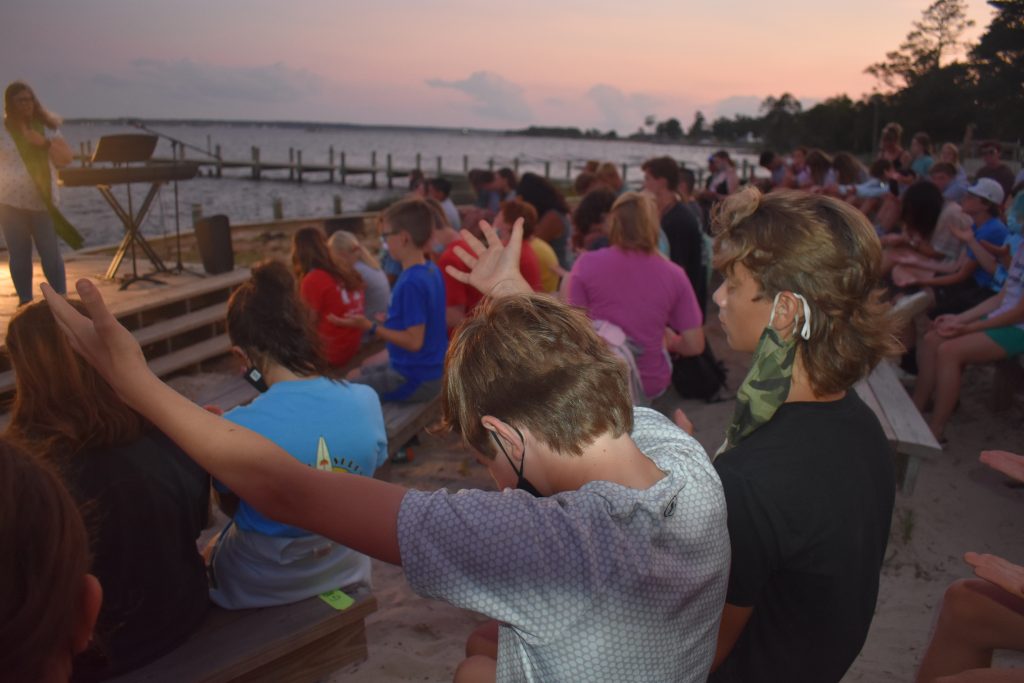 COVID-19 Protocols for Summer Camp
We are looking forward to having you all here at Camp Don Lee for Summer Camp 2024!
The pandemic has caused many changes in our lives, but the need for us to be in community and to experience God's generosity through creation has not diminished; it has only increased. At Don Lee Camp & Retreat Center, we believe we have developed policies and procedures that, when followed cooperatively with our guests, can provide a fun and spirit-renewing experience at our beautiful location on the Neuse River Estuary. We are thankful that for 2023 we operated very similarly to how we operated pre-COVID. We continue encouraging hand washing, regular cabin cleaning, and staying home if you have symptoms, fever, or are feeling unwell.
Below is our Covid policies and procedures we followed for Summer Camp 2022 & School Groups/Retreats 2022:
Offering safe, faith-forming experiences for campers has been and will always be our top priority. During the Covid-19 pandemic, this has meant monitoring the latest scientific understandings, the current policy recommendations from national health and camping organizations, and the trendlines of virus transmission, hospitalizations, and deaths. We have used this information to develop our approach to running camp safely for the variety of populations we serve and to deliver two pandemic summers of residential summer camp with no known incident of Covid-19 in campers or summer staff.
Given current conditions and understandings of the pandemic, we are confident in our ability to operate camp safely this summer with a mitigation plan that relies heavily on our standard and long-standing best practices for limiting the spread of communicable diseases at camp (section A below) supplemented by Covid-specific practices (section B).
A) STANDARD HEALTHY CAMP PRACTICES
 OUR FIRST EFFORTS FOCUS ON THE POLICIES AND OPERATIONAL REALITIES ON WHICH WE REGULARLY RELY TO LIMIT THE SPREAD OF COMMUNICABLE DISEASES AT CAMP.
SCREENING: We ask that campers and family members who feel sick on check-in day or 24-hours prior not come, whether the symptoms are consistent with Covid-19 or with any other communicable illness. We will continue with a five day prescreen for all campers. Find the five day prescreen HERE. Please bring the prescreen form to check in. We will continue our practice of employing written screening for illness and temperature checks during check-in.
OUTDOORS

: The vast majority of our activities take place outdoors, with any large group activities occurring in well-ventilated areas.

SMALL GROUPS

: By nature of our small group camping model, campers have limited contact with campers and staff beyond those in their cabin and living groups.

SANITIZING

: We clean and sanitize facilities and touch points on a daily and weekly basis.

HEALTHCARE

: Our Healthcare Team is onsite 24 hours-a-day to address camper health needs, including assessing symptoms of communicable illnesses. Campers with any communicable illness will not be allowed to remain at camp. If a camper gets sick during their session, there is no refund due to illness and having to return home. It's important that families are mindful of bringing healthy campers to camp.
B) COVID-SPECIFIC PRACTICES
The virus has been unpredictable during the pandemic and likely will continue to be. However, we do have increased understanding on how the virus spreads and will watch the infection and hospitalization levels in the areas from which campers come and make changes accordingly to keep camp safe.
RECOMMENDATIONS

: We strongly suggest that campers be fully vaccinated for Covid-19 and up to date on any available booster prior to coming to camp. We want to know camper vaccination status so we can best care for campers and the community. You will complete this form for each of your campers in your Ultracamp account. Further, campers whose medical conditions put them at-risk for severe complications with Covid-19 infection should seek the advice of their medical professional before attending camp this summer. 

MASKS

:

Mask wearing at camp this summer will be welcome but optional most of the time.

Campers and staff should bring a supply of face coverings to camp in case they are needed. 

If we have Covid-19 cases at camp or see an increase in spread in the state, we may alter this policy to keep campers and staff safe and camp operational. At this time, face coverings will be utilized on a very limited basis. However, if we have a confirmed case of Covid in a small group, that camper will be sent home to recover, parents will be notified and the other campers and staff in that group will be required to wear face coverings indoors where other groups are present.

TESTING

:

We have decided to require pre-camp Covid-19 testing given the uptick in Covid cases in the state and to help us add another layer of protection for our campers and staff. If available in your area and covered by your insurance, we encourage you to have your camper obtain a PCR or lab rapid test no more than 3 days prior to their camp session and bring those results to camp. Otherwise, we will provide a rapid antigen test for all incoming campers, regardless of vaccination status. If a camper tests positive, we will work with you and your family to make arrangements for your camper to attend a session later in the season. If you are traveling a long distance to camp, we recommend you complete an at home test before making the trip.

The CDC does not recommend getting tested again in the three months after a positive viral test if the person does not have symptoms of COVID-19. Campers who have had a positive viral test in the 3 months prior should indicate it on the prescreen form prior to starting camp and have met the criteria to end isolation should have a letter from their healthcare provider documenting the positive test date and stating the individual is cleared to end isolation. A copy of this letter should be presented at check in.

Our Health Center will have on-site testing capacity, as we did last year, for the purpose of verifying Covid-19 assessments during camp. As stated above, campers with any communicable illness will not be able to remain at camp, and no refunds will be made after the start of your camp session. Should your camper fall ill just before the start of their session, please contact us and we will work with you to reschedule. Taking steps to stay healthy prior to camp is an important effort. Families of other campers in the living group and cabin group will be notified of a positive test in their camper's living group or cabin group. As long as staff and campers in the affected group do not display symptoms, regardless of vaccination status, they will be able to isolate in their small group or cohort and should be able to complete their session, as long as they do not show symptoms. We will encourage all parents to monitor for symptoms following the completion of their campers session.

About This Page:

The COVID-19 pandemic is an evolving challenge, and so this page is a living document. It was last updated on the date listed above, and may be updated again based on the public health situation. Please know that future pre-arrival communications with registered 2022 families will be distributed via Constant Contact email. Please make sure your contact information is in your Ultracamp account.

Important Notes:

We are constantly updating our website to match the above policies. If any program descriptions or policies appear in conflict with what is listed above, please know that this page contains the most up-to-date information. Additionally, please also note that some of the pictures and videos found on this site were taken during or before Summer 2020 and therefore may or may not reflect the adapted practices and policies listed above.
We want you to know our biggest goal for Summer 2022 is to still keep camp, camp. While COVID-19 has entered into every part of our lives, we still want the focus of your summer to be fellowship, friends and fun!
As we did for Summer camp 2020 & 2021, we will be following all protocols based on the most recent guidance from the Centers of Disease Control and Prevention (CDC), The American Camp Association (ACA), The North Carolina Department of Health and Human Services, and The Pamlico Health Department.
As the summer progresses most communication will be sent via email. Please go on to your UltraCamp account and verify that all contact information is correct and up to date.
Thank you all for your patience and flexibility in this, we understand how difficult these months continue to be. If there is something we missed or you have additional questions, please email us at info@donleecenter.org. Camp Don Lee is ready to see the youth of our ministry in action continue celebrating God's creation!
COVID-19 Protocols for Retreats and School Groups
These guidelines are based on the most recent guidance from the Centers of Disease Control and Prevention (CDC), The American Camp Association (ACA), The North Carolina Department of Health and Human Services, and The Pamlico Health Department.
To keep everyone safe and healthy during their stay at camp, we encourage our guests to be up to date on Covid-19 vaccinations. If you are not up to date on vaccinations, we strongly recommend you to take a Covid-19 test 3 days prior to coming to camp.
Most activities will be conducted outside, weather permitting; if any activities need to be brought inside there will be pre-assigned locations.

We encourage masks to be worn if guests enter any building other than their own cabin room.

Meals will be strongly encouraged to be eaten outside; Don Lee will provide hand washing areas and plenty of seating.

Don Lee will clean and sanitize all common areas such as bathrooms and any indoor locations used.

During your stay at camp, there may be more than one group on site. If this is the case and groups are brought inside, we strongly recommend the use of masks and social distancing. We ask you to stay within your groups cohort during these times to keep everyone safe and healthy. 

After each activity guests will have the opportunity and will be strongly encouraged to wash their hands before heading to the next activity.

All activity items will be cleaned between use.

Any guests who present symptoms will be brought to our health facility for further observation and may be asked to leave the property.

If your group has any additional COVID policies or procedures that they request are in place please let us know and we will do our best to accommodate them.
Below is our Covid policies and procedures we followed for Summer Camp 2021:
Vaccinated Campers
If your camper is fully vaccinated, please upload their vaccination card into your UltraCamp account. Also, bring it with you to check in just in case it does not upload into the system. No 14-day pre-screen or negative Covid-19 test is required for fully vaccinated campers.
14-Day Pre-Screen for Campers not Fully Vaccinated
All camper families whose campers are not fully vaccinated will be required to complete the 14-day pre-camp health screening document and bring it with them when they check in to camp. During these 14 days, your camper should also, when possible, engage in physical distancing, mask wearing when not at home, avoiding unnecessary travel and refraining from indoor social gatherings with people outside of their household.
All campers who are not fully vaccinated are required to present the results of a negative COVID-19 PCR test taken 2 but no more than 5 days prior to check in date along with the 14-day prescreen.
Most places now use the nasal swab test which is not uncomfortable like the tests used early in the pandemic. If you need assistance in finding a testing location, please let us know. If you have health insurance or do not have health insurance, there should be no charge for the test.
The CDC does not recommend getting tested again in the three months after a positive viral test if the person does not have symptoms of COVID-19. Campers who have had a positive viral test in the 3 months prior to starting camp and have met the criteria to end isolation should have a letter from their healthcare provider documenting the positive test date and stating the individual is cleared to end isolation. This letter should be presented to camp.
Health Monitoring While at Camp
Each week we are blessed to have a volunteer RN or physician at camp. Daily, we will monitor each camper for symptoms including temperature checks.
If a camper or summer staffer has a temperature of 100 degrees Fahrenheit or more, or is displaying other COVID-19 symptoms, they will be isolated immediately in our health center and parents will be contacted. Upon approval of the parent, we will have the camper tested for COVID-19. If the test returns positive, parents will be contacted to pick up the camper and take them home as soon as possible but no later than 8 hours following the initial phone call. The local health department will also be contacted. Camp will provide an N95 mask for the camper to wear home and one for the parent, should they not have access to an N95 mask.
Should a camper in the group test positive, we will contact our local health department for direction. We will notify all parents and staff who are a part of the group and communicate the recommendation from the health department. Parents may be instructed to come to camp within 8 hours to pick up their campers. Parents who may plan to be out of town during their camper's stay need to arrange for this possibility with a designated relative or friend in advance of camp. Unvaccinated staff associated with the group will be isolated and tested. This policy is designed to keep camp safe and healthy and not spread the virus. It also emphasizes the importance of pre-camp vaccination, pre-camp COVID-19 testing, 14-day pre-screening and good hygiene practices prior to camp and during the camp session.
The same testing process is in place for staff. If a staff member associated with a group presents symptoms, the health department will be contacted for further instruction and they will be isolated and depart camp as soon as possible. If the test results are positive, we will inform the parents of campers within the group and may ask them to come and pick them up from camp within 8 hours of the phone call.
Cabins
For Summer 2021, most cabins will be at a reduced capacity. For some cabin layouts, this will mean only 2 campers per room (where there had been 4). For other cabins it may mean 4 campers per room (where there had been 8). For open air cabins, there may be more campers in a room due to the increased ventilation. This will allow for 6 feet between campers while sleeping and with 2 staff members per cabin. Campers and staff who are staying in the same cabin or room, do not need to wear a mask when they are together without others nearby. It will be very important that each camper's gear can be stored in under-the-bed containers or duffel bags that can easily fit under the bed.
Cleaning & Meals
Campers will be asked to do daily sweeping, trash removal and cleaning of their living areas. Each building, cabin and bathhouse will be cleaned and disinfected by trained staff.
Meals will also look slightly different this summer. Instead of eating family style in the dining hall, there will be designated outside and inside areas for each camper group to eat. These will be exclusive to each group to help prevent cross-contamination. Meals will be served modified family style for each group and staff will serve the campers following safety protocols or meals may be served buffet, depending on the number of campers each week. If a camper has dietary needs, those will be provided for and sent out with the group's meal or provided on the buffet. Please make sure all dietary needs are listed in your UltraCamp account.
Daily Activities and Groups
As in summers past at Don Lee, campers will eat and participate in activities within their small (16 campers) groups. Under the guidelines put forth by both the Centers for Disease Control and Prevention (CDC) and the American Camp Association (ACA), this practice is highly recommended (YAY!). Summer camp activities will proceed as usual, with activities such as Encounters and Crafts happening outdoors when possible. Equipment will be sanitized between groups. Additionally, each camper will be assigned a life jacket (or they are welcome to bring their own) which will travel with them to each water activity and will be hung in their room. The few all-camp activities, including worship and the dance, will proceed normally but with social distancing between groups and face-coverings will be worn during times of singing.
Store
The Camp Store will again operate a little differently in 2021. We do ask that you still put money on your campers account, no cash or card will be accepted. If family members are interested in buying shirts or other memorabilia for the summer, 
CLICK HERE
 to access the Don Lee Online Store. If you wish for your camper to have one of these items while at camp you can purchase them online, choose "Local Delivery" and staff will deliver it to your camper during their store time.
Packages
For Summer 2021, Don Lee will not be accepting any camper packages due to COVID-19. Daily mail of small letters and cards will still be accepted. If your camper has forgotten an important item please email 
i
nfo@donleecenter.org
 and call the office at 252.249.1106, we will work with you to get this item to your camper. Bunk Notes, Bunk Replies and Bunk 1 photos will still be offered. For the best experience, please 
CLICK HERE
 for more information and to download the Bunk 1 app.
Rainy Day Procedure
If there is inclement weather and campers do need to be inside they will go to either their cabin porch or a building assigned exclusively to the group for the duration of the weather. Staff and campers will be asked to wear a face covering during this inside time. Camp will be able to provide some face coverings but your camper is encouraged to pack several of their own. We do recommend face masks with loops over the ears. Campers are still encouraged to have "buff" type face covering as this will provide sun protection while on the water and can work in unexpected situations when an ear loop mask is unavailable.
Pick-Up
Pick-up will be scheduled for between 9:30am and 10:30am on Friday mornings. Campers will have their luggage with them at pick up time. We will ask that parents and family members stay in their vehicles during this time. Staff will help with the loading of the under-the-bed boxes or duffel bags.
After Camp for All Campers
For not fully vaccinated campers, following camp, it is highly recommended campers self-isolate for a two week period to ensure they have not contracted COVID-19 and to remain distant from anyone in the household who may have increased risk factors.
The above processes are drawn from guidance from the Centers for Disease Control and Prevention, the American Camp Association's Field Guide for Camps on Implementation of CDC Guidance, authored by Environmental Health & Engineering Inc., the State of North Carolina, our local health department and our team of camp medical experts.