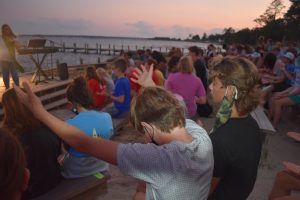 Warm Christian greetings from camp! Thank you for the prayers, love and support you've sent our way this year----another year that has been challenging for all of us. Even through the angst of two pandemic summers, we have found great joy, abundant blessings and experienced God's love, protection and provision for us each and every day.
Click HERE to learn more about how you can be involved with our 75th anniversary peer to peer fundraising campaign and donate today!
With all of the challenges Camp Don Lee has faced these past five years, I believe it's vital to reflect on some of the many accomplishments we have made together through your generosity, much cooperation and hard work. We are most thankful that we have been able to deliver this ministry uninterrupted during the pandemic and with little disruption due to Hurricane Florence impacts.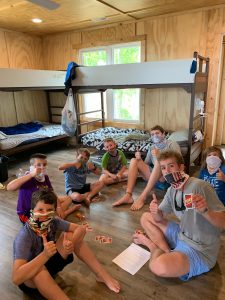 While our facilities have never been better, we are focused on a number of initiatives to improve the experience for our guests and campers and enhance the comfort, beauty and sustainability of our property and ministry for years to come.
These include:
• Raising the funds to replace the two remaining block cabins on the girl's side of camp
Our first effort will be a Friends of Camp Don Lee Cabin. Anyone who makes a designated donation of $500 or more will have their name listed in the cabin.
• Planting new trees to replace the ones lost through hurricanes and waste water upgrades
• Additional rocking chairs for cabin guests
• Camperships to send children and youth to summer camp
• Gifts designated where needed most during these challenging times.
The ministry of Camp Don Lee is a legacy of love and faithfulness where children and youth experience God in new ways. I am always privileged to hear stories of camp from young and young-at-heart---memories of life-long friendships made in Christian fellowship, the deepening of faith and the love inspired for others by this special place. I pray you will consider a gift to this ministry that impacts lives in the name of Jesus Christ.
We are so thankful for the hund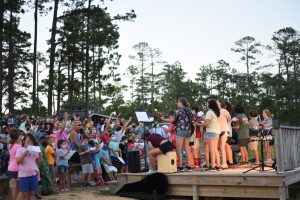 reds of Don Lee donors who continue to help make this ministry possible. God bless you!
You may give a gift securely below or you may mail a check to our office:
Don Lee Camp & Retreat Center
315 Camp Don Lee Road
Arapahoe, NC 28510
Financial information about this organization and a copy of its license are available from the State Solicitation Licensing Branch at 919-814-5400. The license is not an endorsement by the State.