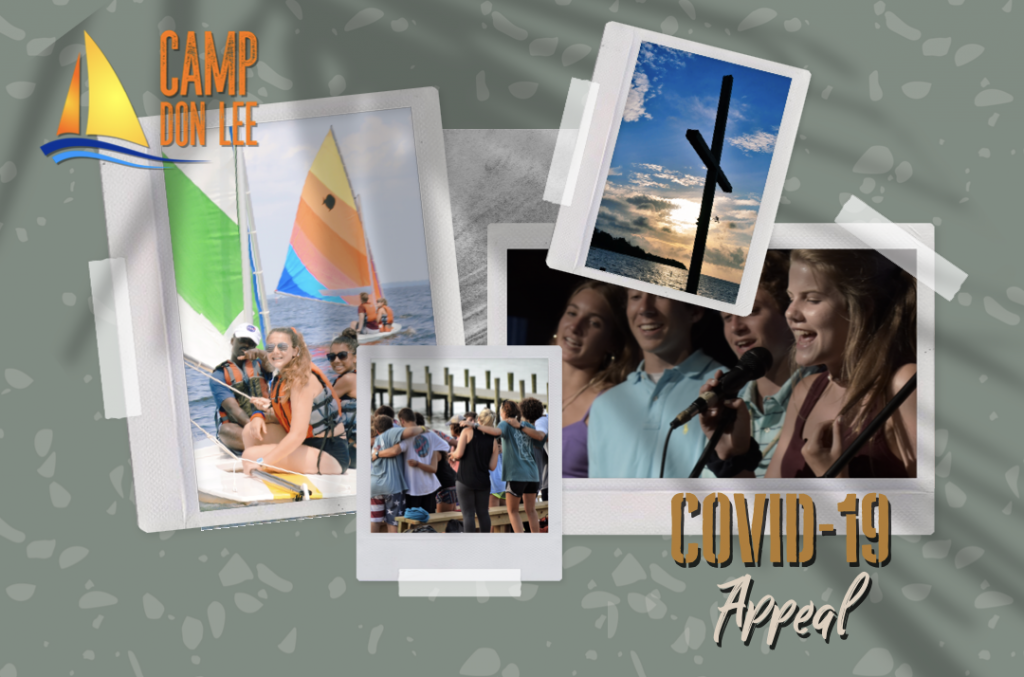 Greetings in the name of our Lord and Savior Jesus Christ from Camp Don Lee,
Less than two years ago, Don Lee's facilities were devastated by Hurricane Florence, leaving destruction of buildings, shoreline and downed trees in its path.
Now we face another storm - one we cannot see as clearly, yet one that is undoubtedly affecting us all in varied ways - COVID-19. For this ministry, the threat of the virus has again brought more devastation with unmatched losses in booked revenues from retreats and school groups for March through May totaling over $400,000.
In order to weather this storm, many of the staff at Don Lee were furloughed this week, and our full time staff, including myself, have severely curtailed our work schedules to reduce expenses as much as possible. With no revenues coming in for the spring programming, we were forced to make these very difficult decisions.
At this uncertain time, I still find myself encouraged for our Don Lee ministry when I realize the progress we have made since the hurricane. We have four new cabins. The new Anna Watson Blair medical facility is under construction. Shoreline improvements have been progressing, and a large portion of the state-mandated sewer system has been installed. The funding for these improvements came from a variety of sources including more than 600 individuals and families partnering with us by donating to camp in response to Hurricane Florence. Your generosity provided the additional support we needed to repair and build anew at Camp Don Lee following Hurricane Florence.
It is with a grateful heart that I turn to you once again to make this unprecedented appeal today. We earnestly need your help as we try to weather this new storm of COVID-19 and its alarming effect on this ministry. We do realize everyone is being affected by this virus, but, if you are able to make a donation, I ask that you click here:
and donate to our COVID-19 appeal. Please know that myself and the camp staff join you in giving generously and sacrificing greatly, for the sake of this ministry. Your donation will provide support for our full time staff, feed and maintain our educational animals, and ensure the life-changing camp experience will continue beyond the COVID-19 shutdown.
Our staff and our many camper families remain hopeful for summer camp as we are already above 90 percent registered capacity for the summer! God has utilized this holy, special place to impact many lives over our 70+ years. We know God is with us, even during this uncertain time. And we know God will continue to use Don Lee and our beloved camp community to do great things well into the future. We covet your prayers while we hold you all in our own.
Thank you for your consideration of a gift today.
In His love and His mercy,
Kate Cooper Metts, Director
Don Lee Camp & Retreat Center
Let Us Pray: God, in mystery and silence, you are present in our lives, bringing new life out of destruction, hope out of despair, growth out of difficulty. We thank you that you do not leave us alone but labor to make us whole. Help us to perceive your unseen hand in the unfolding of our lives, and to attend to the gentle guidance of your Spirit, that we may know the joy you give your people. Amen.