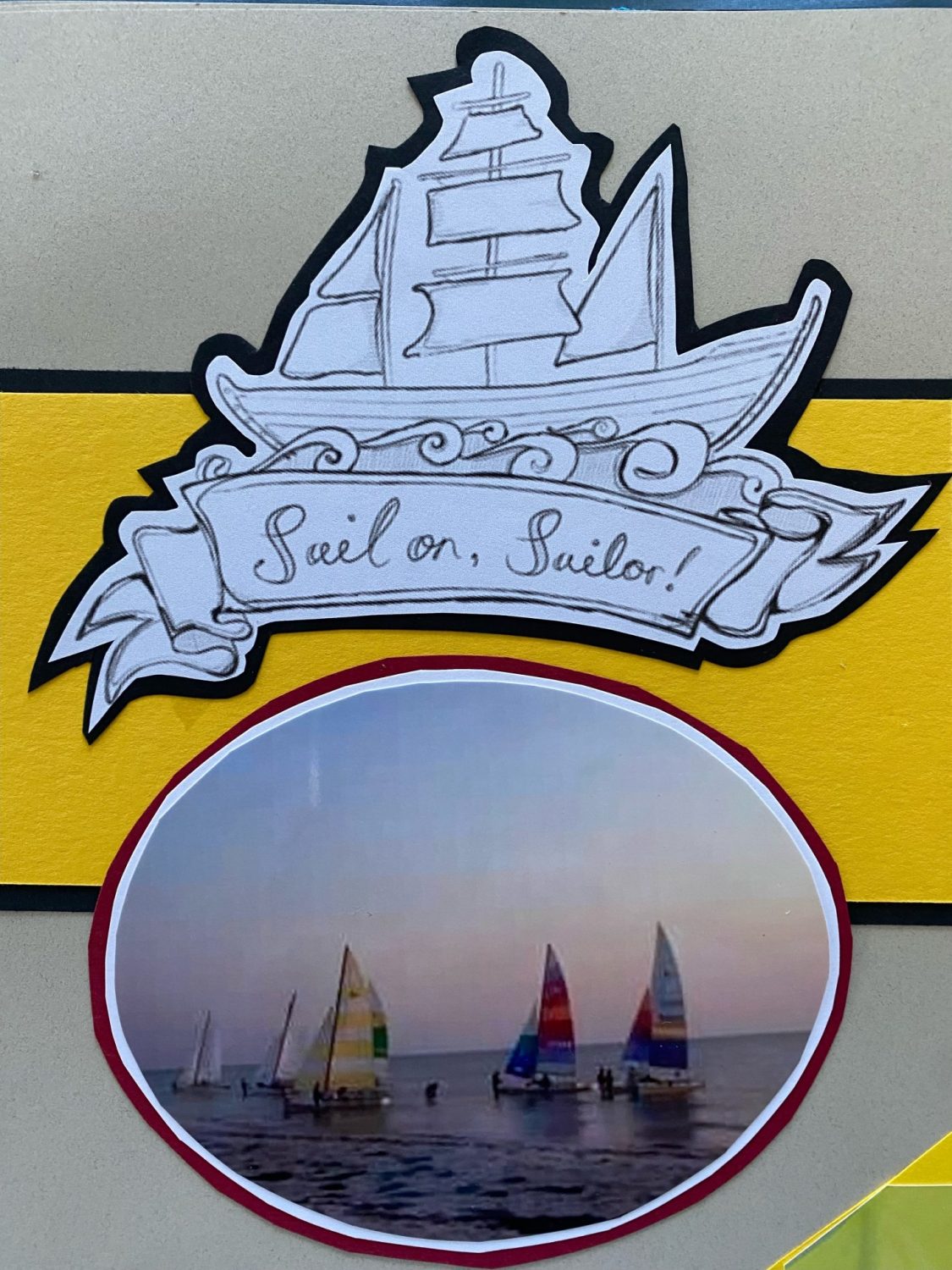 Why have you brought us to the wilderness?
I'm sure that's exactly what my third grade son was thinking when we first dropped him off at Camp Don Lee. As a NC native raising children in Florida, I wanted to provide our children with a connection back to our state. A connection to everything that represented CDL in our family - faith, fellowship, lasting friendships, and a place and environment to find and embrace God.
That first year, not knowing a single soul at camp, not knowing exactly why we were dropping him off in the wilderness, I hoped he would believe. Believe in my guidance. Believe in my love. And believe that God could be found along the banks of the Pamlico Sound.
In this Lenten season, we need to believe in God's path for us, his love for us.
For nearly two decades, CDL has been a guiding light in our son's life and the adult he has become. And all because we left him in the wilderness to find God.
Prayer: Dear God, Help us remember that your path for us may lead us into the wilderness. Into territories or situations where we're not sure of the direction, or the destination. And we will trust in your way, in your love for us. Amen. 
Submitted by: Amy Nowell- mother of long time campers & staff, family connection to camp through generations.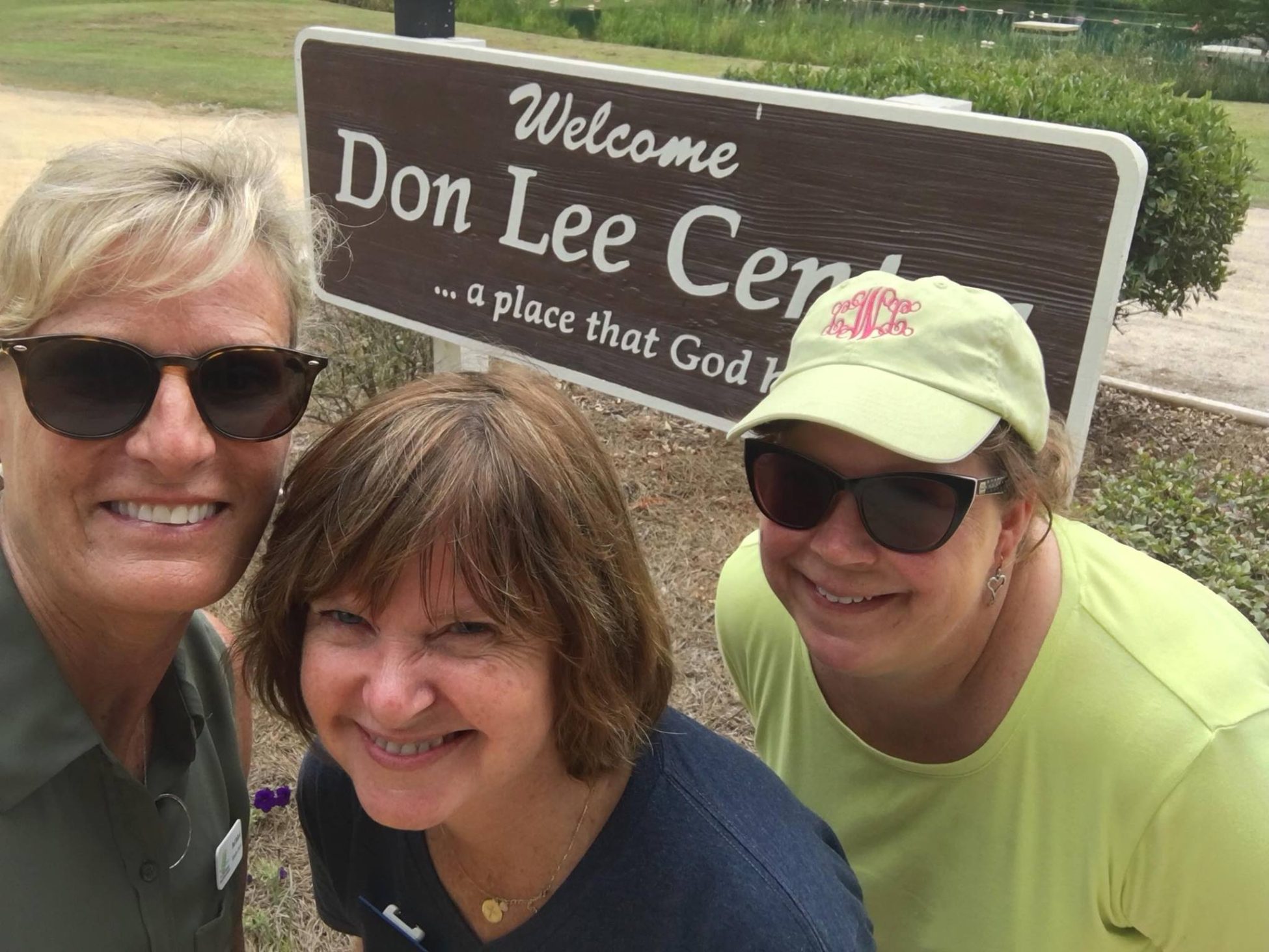 This passage of Isaiah offers us a glimpse of God's vision of peace. The prophet's words offer us nourishment and hope, and these words also raise our consciousness to the possibilities of what our collective life might look like if we resist the forces of the world and choose an alternative way of being in community with one another.
In a world where there is one war after another, God's plan for peace in the world seems hard to imagine. But God has a different vision. Prophets are people who are called by God to serve as a channel of communication between God and the people of God. They are often not very popular because they call out injustices. But we should pay attention to them because they offer us messages of hope and an invitation to enter into right relationship with God and our neighbors.
This text from Isaiah is an invitation for us to be a part of building a new society, and this invitation is not intended to be something to be lived out in the life to come after our time ends on earth. It is an invitation for us to enter into a peace that surpasses all understanding beyond what we typically see on earth, a place where we will all experience spiritual and emotional well-being, a place where we will return to the vision of creation that we read of in Genesis before it was disrupted by sin.
In this new creation, there will be a reversal of unjust systems that have benefitted some people at the expense of others. Political and economic justice will be restored. We will be a people of cultural humility, where we take on a posture of Ubuntu, which speaks of the very essence of being human….it is to say, "My humanity is caught up, is inextricably bound up, in yours." None of us are whole unless all of us are whole."
We are called to be a people who co-exist without placing some people in a social order above orders. We are called to be people who live in harmony with one another.
The word we often use as "peace" comes from the Hebrew word "shalom" which means more than without violence. It means well-being, wholeness, welfare, prosperity, and safety, for ALL of God's people.
The prophet Isaiah is offering us a glimpse of what our world might look like if we allow ourselves to be shaped and formed into the people God intended when we were created. It is possible for ALL people and nature to flourish. There is enough. We are not called to passively wait for God's Shalom but invited to actively pursue it, now. Let it be so.
Prayer: Creator God, you have created us to be in community with one another and have placed a divine spark within each of us. Help us to see all people the way that you see them, and to be people that are agents of your shalom. Amen.
Submitted by: Claire Cox-Woodlief - Board Chair, NC UM Camp & Retreat Ministries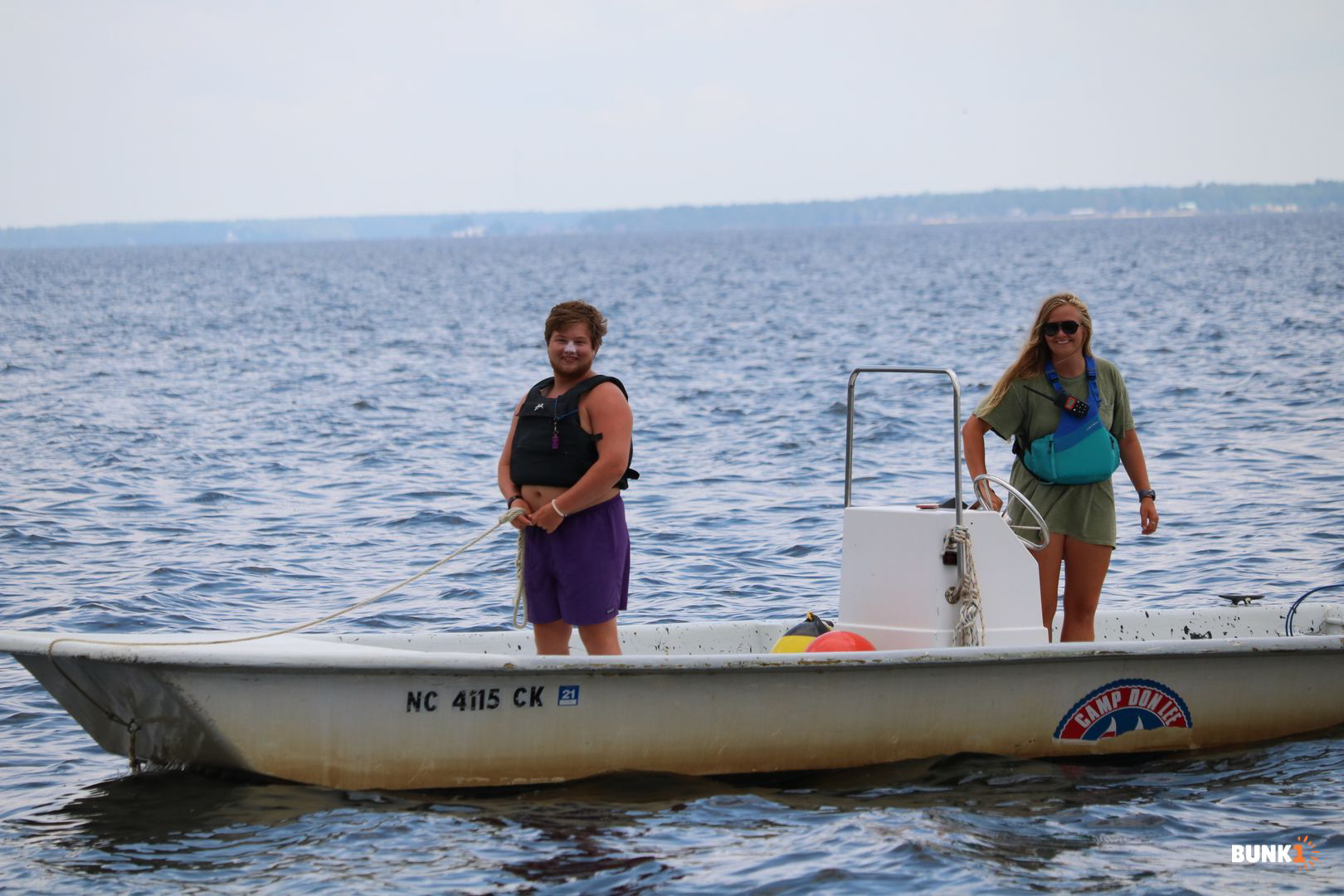 During vespers at camp, saying something that you did not like during the day or something that upset you was called a "thorn." Although we no longer do that because we would like to focus on positive experiences throughout the day, we know that every day is not perfect because we are not. Whether it is getting into an argument with a friend who skipped you in the four-square line, someone you don't know refusing to get out in the gaga ball pit, or you're tired after a long week of camp, we have all been there. Even when we are outside of camp at home, you could disagree with your siblings, friends, or even your parents!
John 8:1-11 is the story of a group of Pharisees bringing a woman guilty of adultery to Jesus to get him to disobey the law of Moses. When Jesus spoke with the Pharisees while they were demanding him to condemn the women they captured, he responded, "let him who is without sin amongst you throw the first stone at her." Jesus is saying that none of us are perfect and that we should not judge others or get angry at them because we have been in their shoes.
I remember hearing something from the hundreds of worships and morning watch services I was a part of during the 11 summers I spent at camp: giving others grace. Giving others grace can mean many things, but at the root of it, grace means forgiving others, as God forgave us through Jesus. Jesus tells the woman that the only person that can judge her is God and nobody else, so she is free to go. It may be hard not to judge others, and I can personally attest to that, but at the end of the day, we were made in God's image to love one another. God knows that we are flawed and will have moments of anger and confrontation, and he will forgive us, so we should forgive others. Whether you are at camp, home, the park, or even at work, we need to give others grave and realize that we are not the ones meant to judge them.
Prayer: Dear God, we thank you for giving us the ability to live in your presence every day. We thank you for our friends and family. We praise you for giving your one and only son to teach us and protect us. Help us to give others grace and be patient on our worst days. Help us learn to love like you love. Amen.
Submitted by: Peter Taylor- former camper and summer staff member
Day 14: Colossians 1:15-23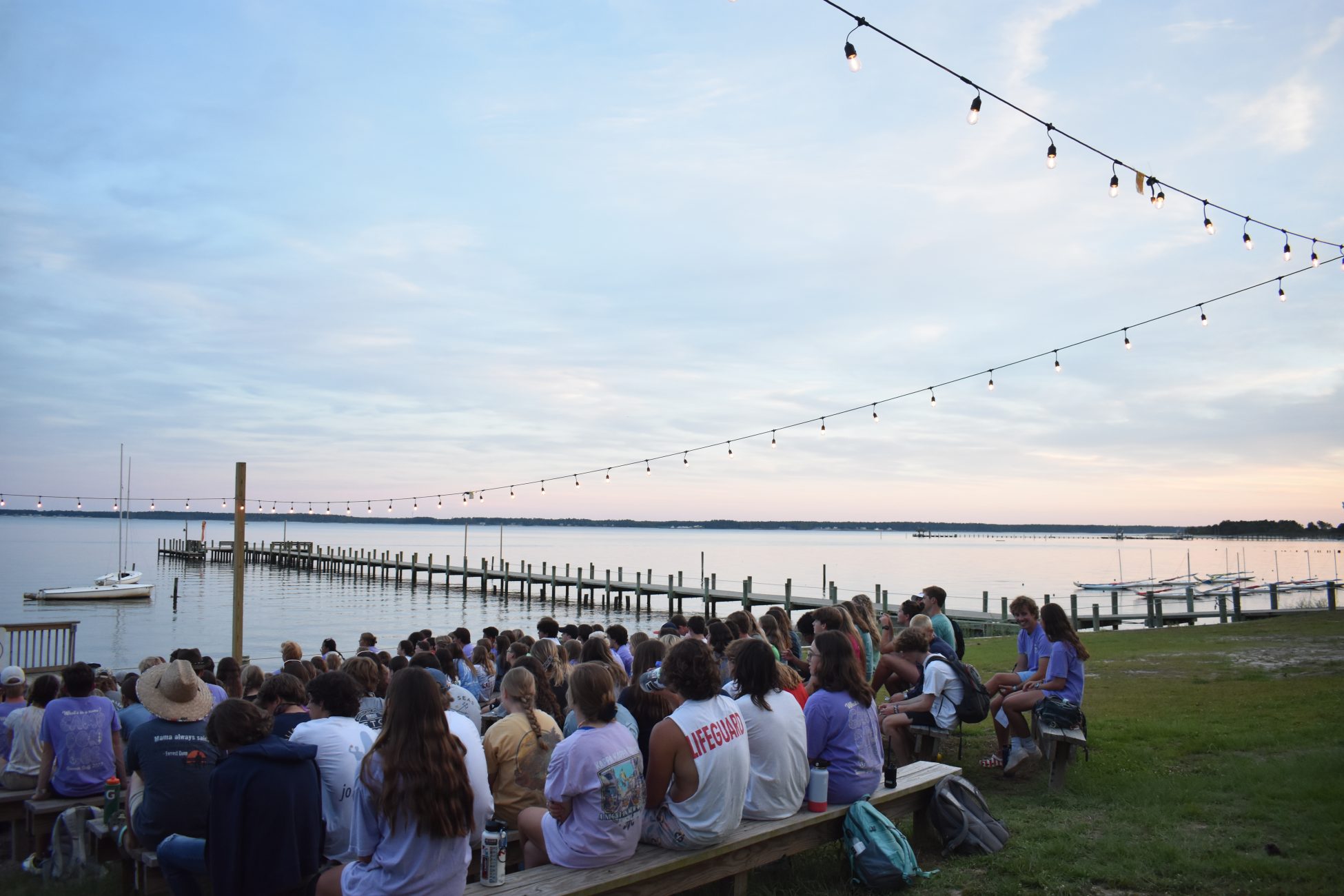 There was a time when there was no cross at the end of the pier, but now that cross has become the symbol of the very survival of camp. It has comforted me to see it standing unscathed when the rest of the pier appeared to be totally devastated.
We were attempting to make a final structural repair to the pier the spring after Dennis the Menace had struck twice the previous September. During the storm some girders had broken loose from the piling to which the cross is attached and dropped approximately one foot. A simple matter to jack in place and install another bolt if you are on land, but over water there is no place to set a jack, and where it was broken there was no way to get a barge with a crane to it without removing some of the pier.
We were finally successful in lifting and holding the lower girder in place for bolting by anchoring the stationary end of a cong-along to the bolt connecting the cross to the piling. Hopefully the cross will weather the next storm. In the meantime, we will anchor our faith to the unshakable cross where Jesus died.
Prayer: Jesus, help us anchor our lives to your cross on calvary so we can weather all the storms. Amen.
Reprinted from 2007 Lenten Devotion. Written by David Edwards. He and his wife, Kay, are long-time family campers. Their children and grandchildren have been campers and summer staff at camp.
Day 15: 1 Corinthians 1:18
"For the message about the cross is foolishness to those who are perishing, but to us who are being saved, it is the power of God."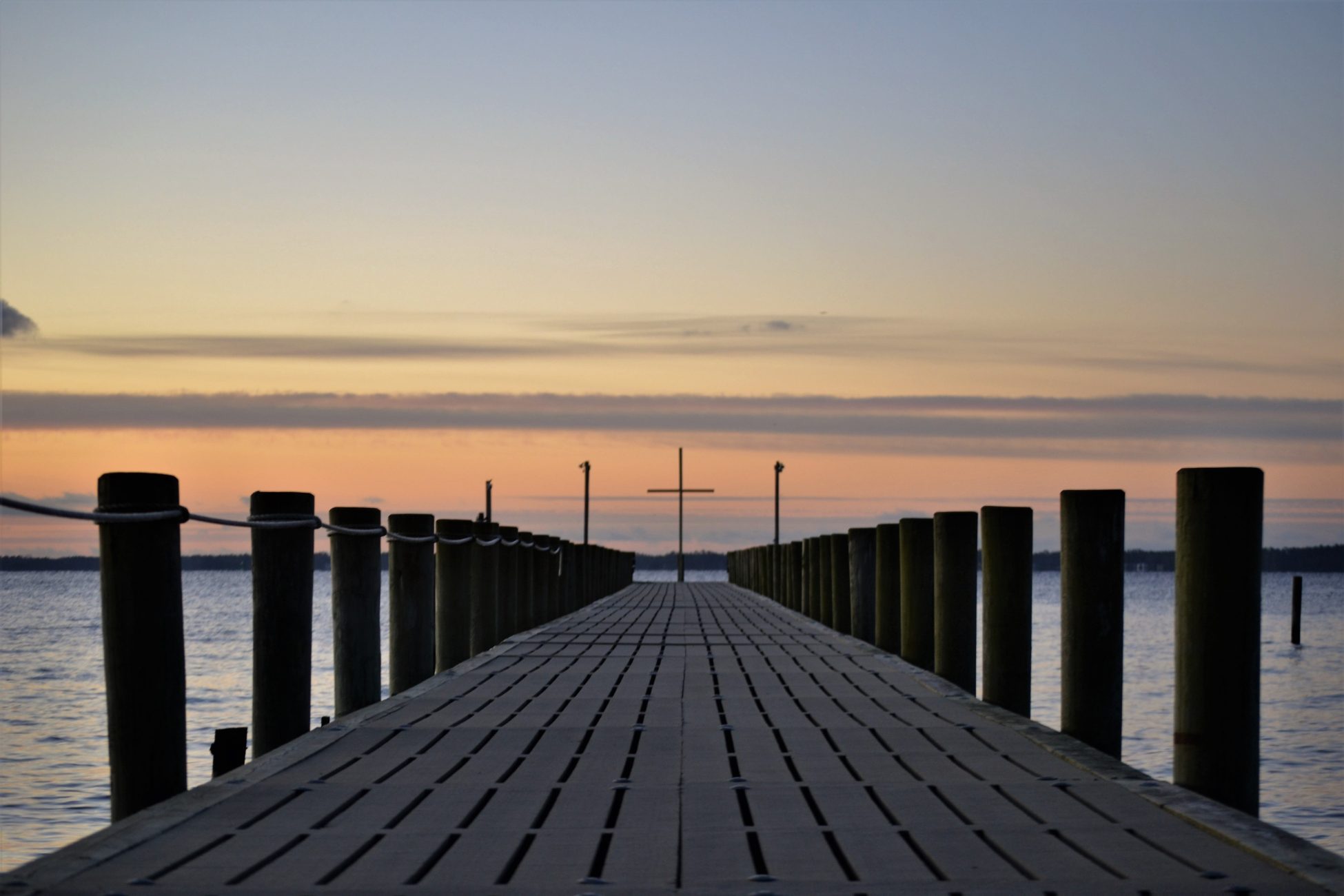 In Colossians 1:15-23, Paul writes about Jesus and encourages the Colossian church to remain faithful to Jesus despite the pressures they are facing. In this passage, Paul gives us a glimpse of Jesus' supremacy over all things, and reminds us of the impact of Jesus' sacrifice on our lives.
Firstly, Paul reminds us that Jesus is the perfect picture of the person and character of God. He is the image of the invisible God, and if we as Christians want to know what our God is like, we must get to know Jesus. Jesus is the radiance of God's glory and the exact representation of His being. Therefore, when we see Jesus, we see the Father.
Secondly, Paul emphasizes that Jesus is the preeminent and supreme over all things. In Him, all things were created: things in heaven and on earth, visible and invisible, whether thrones or powers or rulers or authorities; all things have been created through Him and for Him. Jesus is not just a created being but is the creator of all things. He is before all things, and in Him, all things hold together.
Thirdly, Paul reminds us that Jesus is the head of the body, the church. He is the beginning and the firstborn from among the dead, demonstrating His authority over death. In everything, Jesus has the supremacy. For God was pleased to have all His fullness dwell in Him. Through Jesus, God has reconciled to Himself all things, whether things on earth or things in heaven, by making peace through His blood, shed on the cross.
Finally, Paul challenges us to keep faith and to not lose hope in the gospel. Through Jesus' death on the cross, He has broken down every barrier that separated us from God. Jesus' sacrifice has reconciled us by His physical body through death to present us holy in His sight, without blemish and free from accusation, if we continue in our faith, established and firm, and do not move from the hope held out in the gospel.
In conclusion, Jesus is the image of the invisible God, the preeminent and supreme over all things, the head of the church, and the reconciler of all things. Let us keep our faith in Jesus and hold fast to the hope held out in the gospel, for in Him, we have all we need.
Prayer: Heavenly Father, we thank you for sending your Son Jesus to reconcile us to you. Help us to always remember that Jesus is the image of the invisible God, the firstborn over all creation, and the head of the church. Help us to continue in our faith, established and firm, and not move from the hope held out in the gospel. We thank you for the forgiveness of our sins and for making us holy in your sight, without blemish and free from accusation. We give you all the glory and honor, in Jesus' name. Amen.
Submitted by: Kathryn Wynne- former summer staff member, Marketing and Communications Coordinator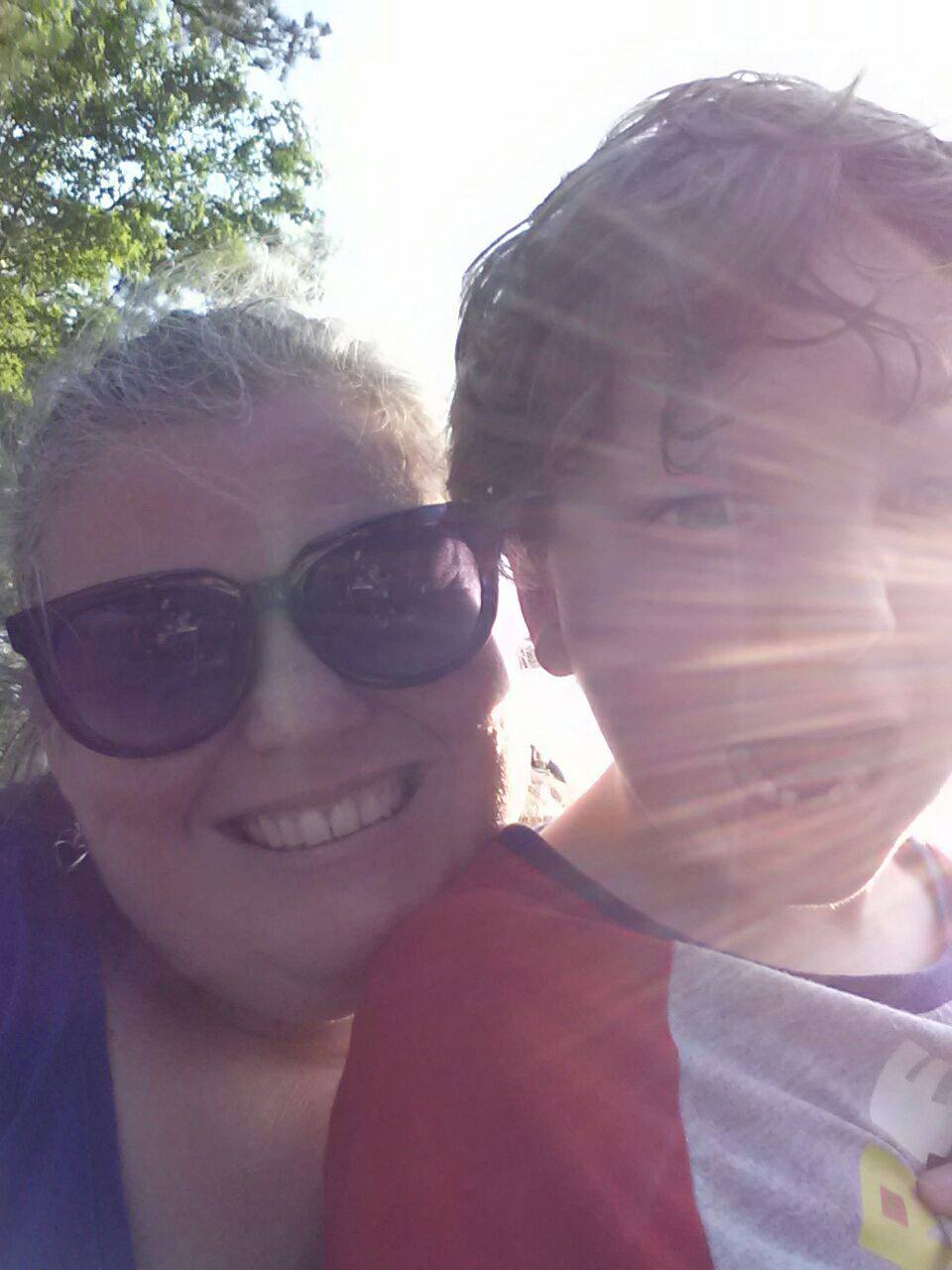 Camp Don Lee is a way to feel God's presence through nature. Before my son Edgar was old enough to attend overnight camps, we took him to family camp. At Camp, the wind is so strong; it feels like a hug from God.
The first time we took Edgar to Camp, we decided to blow bubbles in our free time. We found a quiet place and started blowing. I held up the wand and noticed the wind was so strong it was blowing the bubbles. We were blowing bubbles with the Lord.
The best thing about Camp is that you feel God so viscerally. When you need God the most, Camp is the place to go. You feel His presence so strongly at Camp.
Prayer: Dear Lord, thank you for giving us beautiful places to go to commune with you. Thank you for coming to us when we need you the most. Please help us to protect your creation so that others may have these moments with you. Amen.
Submitted by: Hope Capps - camper parent, serves the NCUM Camp & Retreat Ministries