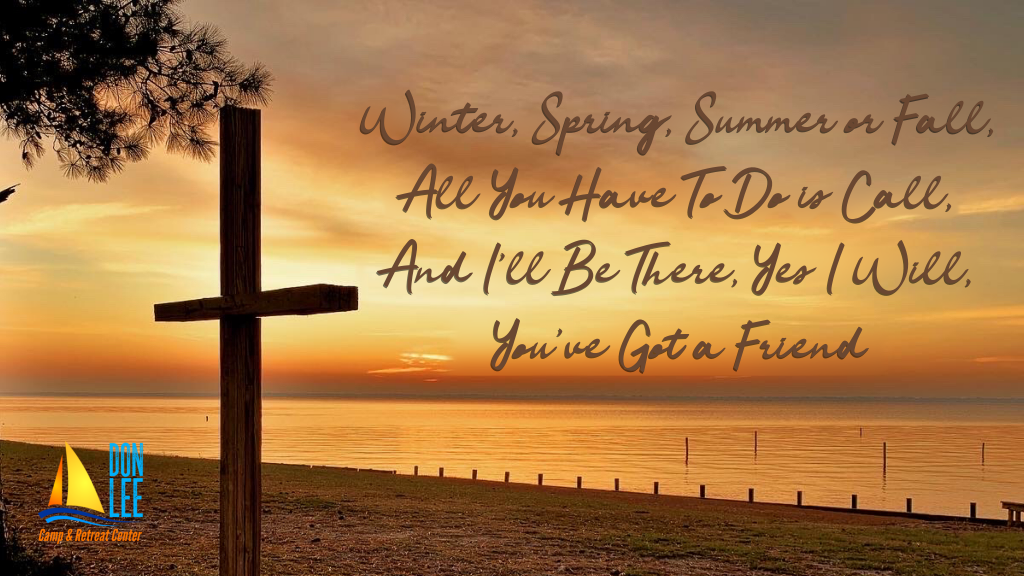 "You've Got a Friend" 
is one of Carole King's most memorable songs. "Winter, spring, summer or fall, all you have to do is call and I'll be there" promises love, caring, reassurance and support. "You just call out my name . . ." also encourages many of us to think of prayer and our relationship with God.
The year 2020 has been a unique challenge to the world. Our NC UM Camp & Retreat Ministries, including our sister Camps Chestnut Ridge and Rockfish, anticipated yet another successful year of retreats, school programming, environmental education, after school, preschool and the ever-popular summer camp programming. The camp experience, in whatever form, is known far and wide to have a profound, lifelong impact on those who encounter God in new ways in these sacred places. Campers and staff grow deeper in their faith while building confidence and relationships in a place apart where they "can be themselves," feeling safe, both psychologically and spiritually.
WINTER planning promised more opportunities to serve than ever before. We were humbled and grateful for 2019 and full of joyful anticipation. Our "2020 Vision" embraced the continued sharing of the love of Jesus Christ at all three of our sites, with dedicated and experienced staff leading familiar activities as well as new.
SPRING brought plans to a screeching halt as the hard reality of COVID-19 forced cancellation of retreats and school group events. And, with the governor's orders to "stay at home," we sadly closed the gates to each of our sites, processed cancellations and issued many refunds to our constituents. With great disappointment and sadness, we had to lay off, furlough, and significantly reduce wages.
Our full-time staff received the news of employment changes with grace and quiet understanding. Since the onset of the pandemic, our team of Camp Directors, including Nick Jeffries at Chestnut Ridge, Jim Martin at Rockfish and our Executive Director Dail Ballard, met regularly over Zoom calls to interpret the CDC guidelines, the directives from the governor's office and the details of protocols from our local health departments. With prayer and careful deliberation, we sought to discern how best to continue this ministry effectively, safely and faithfully.
SUMMER started sooner than the calendar as schools were abruptly closed. Our wonderfully innovative directors and staff determined we could, in fact, provide camp at each of our sites, albeit under rigorous restrictions, robust protocols and at a significantly reduced capacity. We created a summer camp like no other, serving almost 2500 campers throughout our 3 camps! Coordinating with national, state and local agencies, Chestnut Ridge, Don Lee and Rockfish delivered an amazing summer.
And we had not one case of COVID-19 across the 12 weeks of the summer season. Detailed planning, careful oversight and the resilience and commitment of our staff enabled us to provide a summer camp experience like no other time in the history of this ministry. Coming to camp to celebrate relationships with each other and with God, campers and staff reclaimed a bit of "normalcy" in a time of great disruption. Parents thanked us. Campers were delighted! And staff were given the opportunity to share the love of Jesus Christ at a time when 82% of camps across the country decided, with great disappointment, they just could not open for the summer season. We are profoundly grateful for these blessings.
FALL is just ahead, and the challenges of COVID-19 continue to press 2020 with hard realities. By May this year we had lost over $2 million in revenues expected from retreats, school groups and other programs planned during late winter and the spring. Over the summer we lost an additional $1 million as the otherwise successful summer camp season served at a significantly reduced capacity.
Our future has never felt so unpredictable, and Camp Don Lee has never been so vulnerable. We continue to offer programming and services while following all applicable guidelines and restrictions to protect the safety and well-being of our staff and guests. We are making every effort to be responsive to the needs of our communities. For example, with support from parents and coordination with our local school systems, efforts are underway to provide remote learning opportunities for students. Clearly, now more than ever, our communities need us. And we need you!
FRIENDS are wonderfully interconnected, especially during times like these. So, we are "calling out your name, wherever you are" with this update and appeal. We urge you to reflect on your own connections to camp and consider a generous gift to help sustain this ministry through the remainder of the pandemic. Our fixed expenses to maintain our beautiful camps are high, and as a nonprofit with narrow financial margins, we are not in a financial position to withstand an extended period of lost revenue.
God has utilized the "holy grounds" of our camps to change many lives for over 70 years. God is with us today during this tumultuous time. And we are confident God will continue to use our camp communities to do great things well into the future. Please know our camp staff joins you in giving generously and sacrificing greatly for the sake of preserving this ministry.
In heartfelt hope and joyful anticipation, thank you, FRIENDS, for "being there" for camping. CLICK HERE to help us get through these unprecedented times and ensure the future of our camping community in the days, months and years ahead.
Kate Cooper Metts, Director
Don Lee Camp & Retreat Center