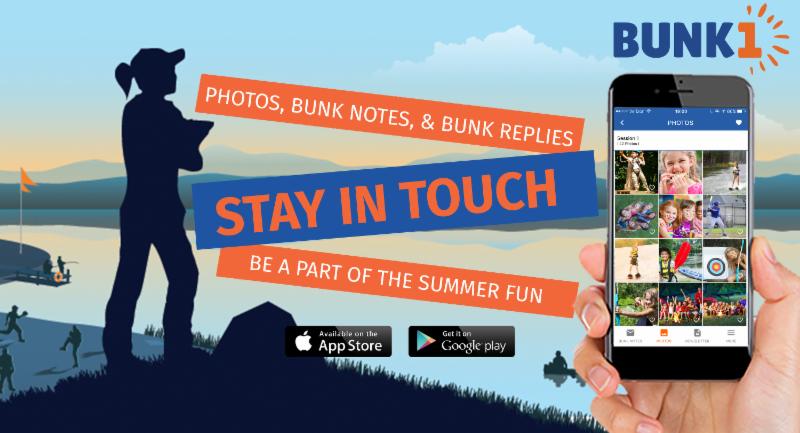 Keep in touch with your camper by sending and receiving Bunk Notes and look forward to our Bunk Replies each day from your camper so that you can keep up with what they are doing! We will continue to keep posting photographs of your camper in action while at camp so make sure you browse the photo galleries while your camper is at camp.
- Returning Parents will be able to use their existing Bunk1 email address and password.
- New Parents will need to log into their accounts using the email address associated with their UltraCamp account and the temporary password provided in Parent Letter.
One-Way Emails to Campers (Bunk Notes):
Campers can receive EMAILS from parents through our Bunk1 service. Each account includes 3 free emails to send to your camper. After 3 emails, there is a small processing charge.
E-mail is printed once daily (usually around 7:30am) and delivered with the regular mail.
One-Way Camper Replies (Bunk Replies):
NEW this year, Campers will be able to send out Bunk Replies. There will be a focused time set aside most days for the camper to write or draw so that they can show their parents what they have been up to at camp. The Bunk Reply will then be emailed to the parents each day through the Bunk1 account. This is a NEW system for this year and we are very excited to be able to allow this form of communication to be available to our families. Our focus will be on getting camper communication to the parents at the beginning of the camp week. Communication from the camper later in the week will often be the choice of the camper to complete during the rest peroid.
Bunk Replies will be uploaded daily (usually around 7:00pm but times may very) and will be updated into your account immediatly.
Viewing the Online Photo Gallery:
The ONLINE PHOTO GALLERY is a great way for parents to save memories from camp and not worry about their campers having to take pictures while they are here. Pictures are uploaded at least once a day and usually around 5:30pm. Please do not worry if you do not see new pictures of your camper. We have limited internet and our photographers usually wait until the end of the day to upload new pictures.
Check out the link below for a quick guide on the Bunk1 Programs offered at Camp Don Lee